Introducing MembersFirst Reservations™ modules
Booking modules for Courts, Lessons, Spa & Massage and Conf/Banquet Rooms
What is MembersFirst Reservations?
MembersFirst Reservations is a cloud-based suite of booking engines built from the ground up for the club industry. All reservation modules sync with your MRM member database and provide single sign on for members.
Dining: A complete dining and function room management system- track reservations for multiple spaces and events, track tables by location, take online reservations, and more. MembersFirst Dining is a robust application that uses a dedicated interface.
Tee Times: Digital tee sheet and booking system; fully customizable for multiple courses and member category rules. Supports shotguns, crossovers, extended intervals, and automatic lotteries. After a member books a tee time, the time appears on their personal club calendar in MRM. MembersFirst Tee Times is a robust application that uses a dedicated interface. Please refer to MembersFirst Tee Times for more information.
Courts: Manage practically any type of court reservation, including tennis, squash, platform tennis, badminton, racquetball, etc. Members can quickly see which courts have blackouts, clinics/leagues, or existing bookings.
Spa: Members can choose which service (massage, hair styling, etc) and which specialist they'd like to book. Photos and bios of available staff appear along with their availability.
Lessons: Allows members to book a block of time with any trainer at the club, including tennis pros, golf pros, or even personal fitness instructors.
Rooms: Conference, banquet or any other kind of room available can be set up to take reservations in the booking center module. For room booking, members and staff can indicate if they need a shared resource such as a projector, TV, or even tables and chairs for the event.
What does it look like?
Except for Dining and Tee Times (which require highly specialized interfaces), most MembersFirst Reservation modules use a similar booking process. This provides familiarity for your members, meaning if they can book a spa time they can just as easily book a court time.
The system has been designed with ease of use in mind. Members can make a reservation in as little as two clicks, but they could also add details such as game type and player names. The system is also easy for administrators to configure and manage, with help text appearing throughout the setup to guide them along. Below are two of the most commonly used screens.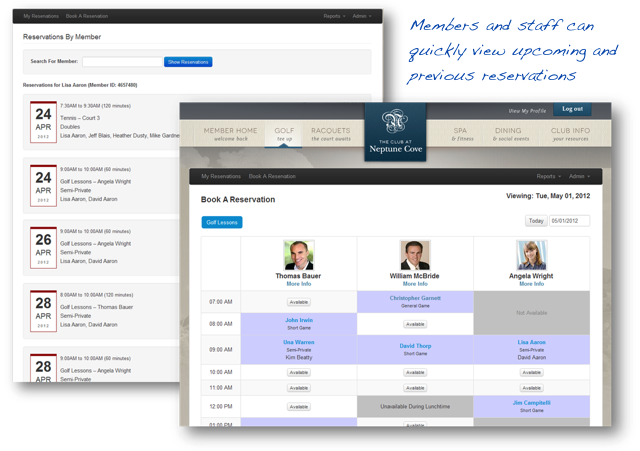 What makes MembersFirst | Reservations different?
Flexible
The MembersFirst Reservations collection allows members to make any type of reservation on their own without ever leaving the club website. With the upcoming mobile release, they'll be able to do that whenever it's most convenient for them. Each reservation module is highly configurable for practically any type of club.
Affordable
MembersFirst Reservations is extremely affordable compared to other options on the market, and you only pay for what you need. MembersFirst Reservations is a collection of different applications; if you don't need spa reservations, you don't pay for it.
Unified
No need to remember yet another username and password; MembersFirst Reservations is directly integrated into MRM, fitting seamlessly into your club's website for a better user experience. Even better, whether your member books a tee time or makes a dining reservation, the confirmed time will appear on their personal club calendar in MRM.
Simple
The majority of our reservation modules use the beautiful new MembersFirst Booking Center interface, making it easy for members to make formerly complex reservations on their own.
What are some of the features?
Dining and Tee Times are feature-rich, specialized applications. Please contact us for information on how they can address your club's particular needs.
Court, Spa, Lesson, and Room Reservations all utilize similar functions and a new streamlined 'Booking Center' interface that makes even complex reservations easy for members to do on their own. Here is a partial list of features:
Easily accessible on the clubs site for either the staff or members directly
Intuitive, user-friendly look and feel consistent with the rest of the member site
Easy to use flow designed for the way that clubs already take reservations
Prevent how far in the future members can make reservations
Limit how many reservations members can make in a given timeframe
Enforce cancellation policies
Booking rules are configurable per weekday, weekend and holidays
Configurable and flexible blackouts supported
Recurring reservations available for administrators
For booking lessons, massages, training or any other similar type of reservation, staff members can enter their individual schedules
Book secondary resources such as a tennis ball machine for tennis, a projector for a meeting room, or add video analysis to your golf lesson
Customizable email confirmation that allows for cross-promotion
Will this work on mobile devices?
Currently, only certain modules offer specialized interfaces for smaller mobile devices. The other modules will default to the desktop interface. Mobile compatibility is a priority for us and will be available for nearly all Reservations modules shortly.
To learn how the Club Management Inventory control and POS software module can take your inventory headaches away, book your free live demo now.