As a longtime member of Plymouth Country Club, the tee sheet component of our website is the best I have used. The ease of making or changing tee times is terrific. The "Group Play" function on the tee sheet is very important as I play in groups almost every weekend. The ability to sign-up and then be able to see who else has signed up for the group on any particular day is a great feature.

Kenny Kupferberg, President, Plymouth Country Club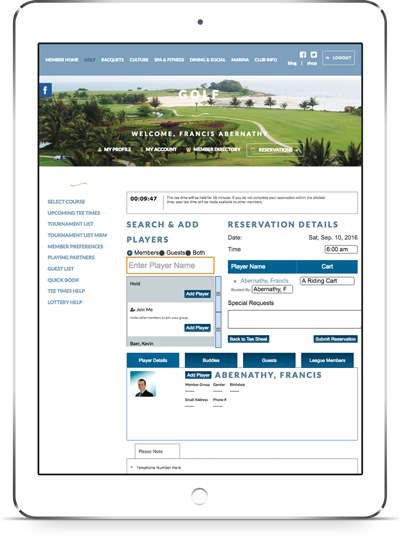 MembersFirst Tee Times provides an easy to follow solution for all your members, even the one's hesitant to make the leap to online tee times. We assist in providing easy how-to instructions and videos for your members to guide them through the booking process.
Some key features unique to the MembersFirst Tee Times system:
I need a game
Do you ever find yourself trying to find another member to fill out your group for an upcoming tee time? Are you a single trying to get in a last minute round? Do your new members need help finding a game?
Members can flag an upcoming tee time with our "Join Me" feature. This allows the membership to simply understand people are actively looking for people to play with. Members can easily identify the groups and add themselves to the reservation without going through the pro shop.
Is that John Smith or John Smith?
Like most clubs, you probably have at least a couple members with the same name, which can cause confusion at the shop and leave everyone wondering who's bag to pull out of storage.
MembersFirst Tee Times displays the member photo along with their booking, making sure you don't accidentally pick the wrong member. This also assists the shop with billing accuracy and in turn, makes your accounting department happy.
The 8:00 A.M. Rush
It's every member's favorite time to play, and they're all online trying to book at the same time. In most systems, a member might think they've secured the time, only to be kicked out by someone beating them to the booking by a nano-second. They're kicked out and have to start over by selecting a different time.
In MembersFirst Tee Times, even if someone scoops the reservation away from you, the system suggests the next closest available times and allows you to complete your booking.